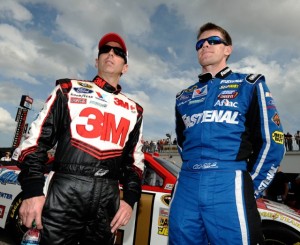 As disappointing as Carl Edwards 2011 season ended, with a narrow second-place finish in the 2011 Sprint Cup Championship, it was a triumphant start to 2012.
Edwards claimed the pole position for the 2012 Daytona 500 over the weekend.
Edwards out-performed all other drivers, turning a lap at 194.738 mph, which is the fastest qualifying speed since 1999. He finished just in front of one of his fellow Roush teammate Greg Biffle.
Only the top-two spots were available for qualifying this past weekend, with the remaining positions set this upcoming Friday, with the running of the two Gatorade Duels at Daytona.
But come Sunday, Edwards will be out in front to start, one spot ahead of where he finished the 2011 Great American Race.
Edwards' odds to win the Daytona 500 have improved since winning the pole for the race. Currently, Edwards is up to 12/1 to win the 2012 Daytona 500 as where he was 14/1 or 15/1 before qualifying… depending the online sportsbook consulted.
Preliminary odds for the Gatorade Duels will be available at sportsbooks like Bovada leading up to Thursday, but following the two qualifying races will be taken down and reformulated for the official starting grid.
At the Budweiser Shootout this past weekend, an exhibition race to kick off 2012, it was Kyle Busch who edged 2011 Sprint Cup champion Tony Stewart by the closest margin in the races history.
Current Odds To Win The Daytona 500