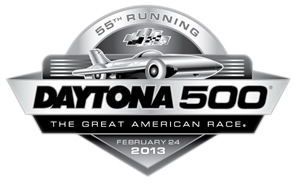 Alright, we are now all set for the 2013 Daytona 500. The qualifying is complete and the starting grid is set. Now, there is just one more thing to do.
Gentleman, start your engines, er, gentleman and lady we mean.
That lady should be able to be seen very easily on Sunday at Daytona International speedway, as she will be on the pole. Danica Patrick made history last weekend by becoming the first woman in history to qualify for the pole at the Daytona 500. But of course as she will tell you, winning the pole doesn't mean too much except for the fact she had a good run on a couple of laps.
Now, its about getting it done at Daytona on the biggest stage in the NASCAR Sprint Cup series.
Patrick may be out in front to start, but she is down the list of the betting odds to win the 2013 Daytona 500 on lines available at Bovada Sportsbook.
So who is at the top?
Well, it had been Dale Earnhardt Jr for a while, and then he was joined by Tony Stewart earlier this week. But after Kevin Harvick and Kyle Busch each won the Budweiser Duels on Thursday at Dayton for the rest of qualifying, they jumped both Earnhardt and Stewart at the top.
It's Harvick who is the overall favorite, going off at 9 to 1 on Bovada Sportsbook's post-qualifying Daytona 500 betting lines that were released late Thursday after the Duels. But by no means is Harvick way out in front. in fact, Busch is right behind him at 10 to 1 on the payout.
Matt Kenseth took the checkered flag at the 2012 Daytona 500, and after his qualifying run in the Duels, oddsmakers believe that he is a serious contender to be right back in victory lane come late Sunday afternoon. Kenseth is slated at 10/1 alongside Busch, as it Stewart.
Earnhardt fell back just a little, but remains the fifth overall favorite, going off at 12 to 1.
There are some other notable names not far behind, including Jeff Gordon, who will be on the outside lane up front to start the race. Kasey Kahne sits at 12 to 1 along with Gordon, while 2012 Sprint Cup Series champion Brad Keselowski is set at 14/1.
Down at 18 to 1 you will find Patrick. She will start with no one in front of her, but if she does get the win this will still be considered quite an improbable victory.
The 2013 Daytona 500 will start at 1pm ET on Sunday afternoon, with Fox picking up the live coverage throughout.