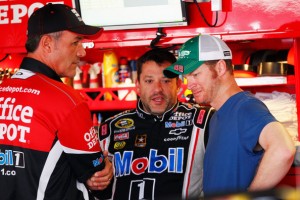 The start of the 2013 NASCAR Sprint Cup season is nearly upon us, as the top drivers in the world descend upon Daytona International Speedway for the running of the 55th Daytona 500. Last year, it was Matt Kenseth who drove his way to victory at the Great American Race, for the biggest win of his career.
As we come into the 2013 season, Kenseth is not the top-favorite at Daytona to repeat that title, but there are not many drivers between he and the top of the betting odds.
A familiar name leads the way on 2013 Daytona 500 Betting Odds prior to qualifying that will take place a week prior to the race. That would be Dale Earnhardt Jr. It's been nearly a decade since Earnhardt last won the Daytona 500, that coming in 2004. But Earnhardt has had other successes at Daytona outside of the 500. It's enough for Bovada to tab him as the pre-qualifying favorite, paying out 17/2 on the latest lines.
The drivers behind him sit pretty close on the odds though, and who knows how it will end up once the starting grid is finalized. It's a good bet that the majority of these names will be right at the top of the list of favorites just like they are now.
Five drivers sit with odds at 10/1 behind Earnhardt at Bovada. Jimmie Johnson, Kevin Harvick, Kyle Busch, Kenseth, and Tony Stewart are receiving solid payouts with the race less than two weeks out.
And then there is Denny Hamlin and Jeff Gordon at 11/1.
In fact, as we go down the list of favorites, there is a ton of parity in the odds to win the 2013 Daytona 500. You have to go outside of the top-12 to get a payout higher than 15/1.
It's a testament to the quality of top drivers that will be in the field. And Incidentally, Bovada has a betting line for the 'field', which is any other driver not mentioned on their list. The field is paying out 20/1.
The 2013 Daytona 500 will air on FOX on Sunday, February 24 beginning at 1pm ET. Qualifying for the Daytona 500 will be different than in year's past, with no Duel 125s for the top spot in the starting grid. Instead, qualifying will take place on Sunday, February 17 with the traditional two-lap sprint for high speed for the top-two spots.
From there, the positions from 3-32 will be given in the order of the Budweiser Duel 150's qualifying races held on Thursday, February 21. The positions from 33-36 will be awarded to drivers who failed to qualify in the race, but earned it by the fastest times from the two laps days earlier.
The final spots will be determined on a 'provisional' basis stemming from points earned in 2012.