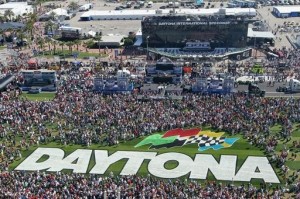 The 2012 Daytona 500 gets going later today at 1pm EST with the biggest names in NASCAR ready to get their season underway.
For Carl Edwards, he knows exactly where he will be starting come race-time on Sunday… at the front.
Edwards qualified with the best lap speed last weekend during qualifying, edging out teammate Greg Bifle to claim the pole position. Biffle will start second.
As for the rest of the field, they got their starting positions via qualifying races this past Thursday. Tony Stewart and Matt Kenseth claimed victory in their respective Gatorade Duel At Daytona races and are rewarded with a second row starting position.
Though he is starting out in front, Edwards does not lead the way on the list of favorites to win the 2012 Daytona 500.
That title goes to three other drivers, in Tony Stewart (8/1), Dale Earnhardt Jr (17/2), and Kyle Busch (10/1).  If Tony Stewart wins this year's Daytona 500, it will be his first… keep that in mind.
Just behind the top group are a very skilled set of super speedway drivers like Kevin Harvick (11/1), pole sitter Carl Edwards (11/1), and Jeff Gordon (12/1).
While that is an impressive lineup of drivers, you can not dismiss what happened last year when rookie Trevor Bayne took the checkered flag in his first career start in NASCAR. This year, Bayne isn't quite as far under the radar however he is still getting long odds to win the Daytona 500 at 40/1.
Other drivers to note: Jimmie Johnson (14/1), Kasey Kahne (18/1), Denny Hamlin (20/1), Danica Patrick (35/1)
Yes, you read that right. Danica Patrick is for some reason getting 35 to 1 odds though she has yet to win a race and hasn't proved she can keep the car off the wall. She is currently getting better odds than the aforementioned 2011 Daytona 500 winner Trevor Bayne (40/1), the 2000 NASCAR Champion Bobby Labonte (75/1), the 2000 Indianapolis 500 winner Juan Pablo Montoya (40/1), Mark Martin (40/1),  and is tied with 2008 Daytona 500 winner Ryan Newman at 35/1 odds.
The point being, she is favored over way more accomplished drivers, drivers that have more achievements in open wheel racing where Patrick came from before entering the ranks of NASCAR. She is waaaaayyyy over-favored here however 35 to 1 still pays $35 for every $1 bet… but so does a roulette wheel.
Top 10 Drivers Favored To Win Daytona 500 – From Bovada Sportsbook
(if we didn't mention your favorite driver or want to see Daytona 500 betting odds for other drivers, click the preceeding link)
Tony Stewart 8/1 – $1 wins $8
Dale Earnhardt Jr. 17/2 – $1 wins $8.50
Kyle Busch 10/1 – $1 wins $10
Carl Edwards 11/1 – $1 wins $11
Kevin Harvick 11/1 – $1 wins $11
Jeff Gordon 12/1 – $1 wins $12
Jimmie Johnson 14/1 – $1 wins $14
Greg Biffle 18/1 – $1 wins $18
Matt Kenseth 18/1 – $1 wins $18
Kasey Kahne 18/1 – $1 wins $18